Read: John 4:1-42, The Samaritan Woman at the Well
Womanist theologian Elaine Crawford is the author of Hope in the Holler. In it, she writes about the many ways that African American women in particular still hold onto hope even in the midst of trying life situations. "Hope" is a theological principle that even in this moment of this pandemic stress one needs to embrace. And when it comes to hope in biblical texts, I can only imagine what it looked like for the "woman at the well"—this unnamed SamaritanSamaritans were a people who mostly lived between Galilee and Judea and were avoided or shunned by mainstream Judaism. Jesus' message, however, was so inclusive that he often spoke favorably of Samaritans as he did with the woman at the well (John 4) and in... More woman.
This text is one of my favorites and was used when I was ordained more than 20 years ago. My sistah-friend, the Rev. Gwendolyn King, not only preached about this woman who was called to the work of ministry but she sang of the trials and tribulations of this woman, deemed a social outcast, who even in the midst of her struggles still found the courage to engage in finding "home" for herself and extended the work into the community.
Home, as defined by pastoral theologian Dr. Lee Butler in his book A Loving Home: Spirituality, Sexuality and Healing Black Life, is a metaphor for what we expect from one another: community, unity, and healthy positive relationships. In some naïve circles, there is still hope, hope for unity, hope for civility, and hope for care of and for God's people. Butler in his text however also suggests "although as a community, we have not lost our hope for unity, our conduct, in many ways, may be interpreted as our continuing to function self-defensively."
The self-defensiveness may however be a form of fear. Fear of the unknown, fear of not being in control. Fear of a future that we do not know. Fear of living with ambiguity.
Living in fear
Imagine the uncertainty of life this Samaritan woman must have felt. What has occurred that she is now in this position where she finds herself? When will this moment end? I would think she might have felt left by God. In the midst of this pandemic, we too might feel this way and struggle with the theodicy question: God where are you?
The stress—the mundane, extreme environmental stress that we are attempting to navigate—is not easy, and I believe all of us and the members of the communities in which we are called to care are tired and wanting this moment to be over. Yet unfortunately here we are, and this existence might not be just for this moment. Just last evening, I heard from one of the authorities on this global pandemic that this virus may be with us forever. How might we live with this reality? How might we live knowing that life as we knew or thought we knew it would not be as we imagined it to be? It appears that this once-in-a-lifetime pandemic has pushed us to "fall out of graceGrace is the unmerited gift of God's love and acceptance. In Martin Luther's favorite expression from the Apostle Paul, we are saved by grace through faith, which means that God showers grace upon us even though we do not deserve it. More."
Falling out of grace
Sobonfue Somé in her work Falling Out of Grace – Meditations on Loss, Healing, and WisdomWisdom encompasses the qualities of experience, knowledge, and good judgment. The Old Testament book of Proverbs, which sometimes invokes a Woman as the personification of Wisdom, is a collection of aphorisms and moral teachings. Along with other biblical passages, it teaches, "The fear of the... More describes the state of grace as that holyHoly is a term that originally meant set apart for the worship or service of God. While the term may refer to people, objects, time, or places, holiness in Judaism and Christianity primarily denotes the realm of the divine More and contented way of being. The state of grace, she writes, is not the same as success nor is it reflected in social status. It is the space in which we work out all of our difficulties with care, and function peacefully in connecting with other people in the flow of life.
"Instead, I have taken refuge," she continues, "in the words of one of my wisest teachers: my grandmother. Failure is the best thing that can happen to you. Something needs to be broken in order for a new state of grace to be born. It is the natural cycle of our spirit. It is in the process of rebuilding oneself in ways unique to every situation. I am wondering if the Samaritan woman listening to the spirit, encountering JesusJesus is the Messiah whose life, death, and resurrection are God's saving act for humanity More, began to understand this.
Somé suggests that as long as we live, we are destined to fall again. There are more ways in which one can fall out of grace—and come back to it. Failure will always exist. Can we live with this truth? Can we live with the ambiguity of life?
How as a community of healers, do we assist with the healing work especially in the midst of pandemic stress?
Like the woman at the well, so many things in our lives have fallen apart. But still she rose and went to tell the story—the story about the man who knew all about her. He knew the many ways that life had given her an existence where people shunned her, where she felt isolated, and she was (according to this recorded story) not living with her husband.
She was asked to give up the part of herself that wanted to know more than others thought she should know (see the work of Obery Hendricks "Living Water") to seemingly make it easy for her to have a life companion. Yet the many pandemics in her life landed her here. And then, by the grace of God, there came a man who knew all about who she was and the many ways she might have been deemed to be or felt as if she was "falling out of grace".
How do we heal?
How did she begin her healing process? How might we walk with others as they process their own lived experiences?
There is a mantra that I give to all of my students who are learning the Art of Congregation and Community Care. This mantra comes from my late husband, Dr. Richard Wallace who was also a professor at Luther Seminary. The three-word mantra, as a simple way of providing care is: Show up, Shut up, and Listen!
SHOW UP.
Show up for the people in our congregation. Find ways to continue to connect.
SHUT UP.
In the midst of polarization and differences in opinion, it is sometimes best not to say anything but engage in the third part of this pastoral care trilogy.
LISTEN without JUDGEMENT.
Listen to the people. Hear where they stand theologically and then "bracket" your own position so that you might not only hear where they are coming from but more importantly so that you might hear from God.
I have added a fourth component to this work:
PRAY.
Pray that God and the Holy Spirit give us wisdom to ask the probing questions to assist the individual, the couple, and the family, as they seek new understanding in who they are and what they are called to be. Pray that we might all find home, knowing too that God is still sitting on the throne.
---
Questions for Reflection
How and under what circumstances did the woman at the well "fall out of grace"?
What are the pandemics in your life?
What where the moments you felt like you were falling out of grace? How did you process those moments?
How might you understand "grace" anew in the midst of the stress of the COVID-19 pandemic?
What might home look like for you?
What means will you use to get back to a place of "grace"?
---
Sources Cited:
Butler, Lee (2007) A Loving Home: Spirituality, Sexuality and Healing Black Life. Fortress Press: Minneapolis
Crawford, A. Elaine (2002). Hope in the Holler: A Womanist Theology. Westminster John Knox Press: Louisville
Hendricks, Obery (2004). Living Waters. Harper Collins: New York
Some', Sobonfue (2003). Falling Out of Grace – Meditations on Loss, Healing, and Wisdom. North Bay Books: El Sobrante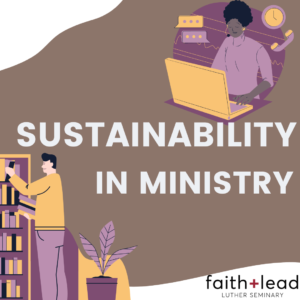 This Bible study is cross-posted from The Faith+Leader under the monthly theme Sustainability in Ministry. Faith+Lead offers this way to connect with God through Scripture for personal or congregational use.